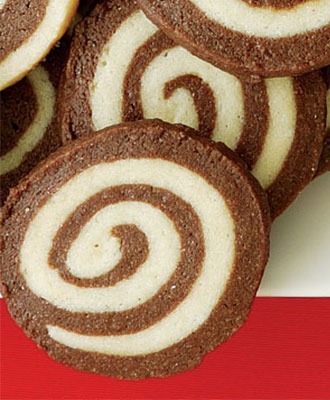 ingradient
3 cups plain flour
1/2 tsp baking powder
1/2 tsp salt
1 cup butter
1 1/3 cup castor sugar
2 large eggs
2 oz unsweetened chocolate, chopped finely and melted
Direction
Sift flour, baking powder and salt. Beat butter until fluffy, add sugar and beat some more till white and fluffy. Add eggs, one at a time and beat well. Turn down the speed and mix in flour mixture until combined.
Divide the dough into 2 parts and wrap one half in cling film or plastic bag, shape into a 4 by 4 inch square …like so….and chill.
Return the other half to mixer and mix in the cooled melted chocolate and mix well. Shape the chocolate dough into a 4 by 4 inch square in cling film or plastic bag and chill with the other half for 30 minutes.
Cut out 4 pieces of parhment paper about 10 by 10 inches square.
Take out the block of chocolate dough and cut it into 4 strips. Return 3 of the strips to the refrigerator. Roll out the 1 strip to about 6 by 7 inches between 2 pieces of parchment paper. Keep aside or preferably in the refrigerator.
Take out the plain butter dough block and divide into 4 strips and roll out one strip to a 6 by 7 inch rectangle in between 2 pieces of parchment paper (keep the remaining strips refrigerated).
Peel off the top pieces of parchment paper from both of the rolled out pieces of dough. Flip the plain dough over the chocolate dough. Peel off the parchment paper from the plain dough. Trim the edges to get a neat rectangle.
Gently by using the aid of bottom parchment paper roll up the layered dough into a nice tight log. Wrap in cling film and freeze the log for 1 hour. Do the same thing for the other 3 sets of plain and chocolate dough and freeze them all for 1 hour.
After 1 hour take them out and roll them back and forth to avoid the logs being flattened on one side and then place them back into the freezer for 3 hours.
Take the logs out after 3 hours, slice, place on a lined baking tray and bake for about 10 to 12 minutes until firm. Cool on a wire rack and sore in an airtight tin. Makes about 60, I think. They're so pretty! 🙂