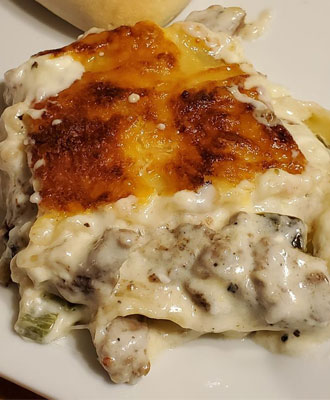 ingradients
1 package no boil lasagna noodles
2 lbs lean ground beef
1 large onion
1 cup sliced mushrooms
2 medium green bell pepperssalt, pepper or favorite meat seasoning
2 tablespoons Worcestershire sauce
1 tablespoon beef soup base
2 jars Alfredo sauce
1 lb shredded mozzarella cheese, dividedcooking oil
Direction
Prepare the vegetables: I use a very large onion. Cut the onion into small julienne strips. Remove the seeds from the peppers, cut into similar sized pieces.
Heat a couple tablespoons of cooking oil in a large skillet over high heat. Add the vegetables and cook, stirring frequently, until vegetables begin to brown. Don't let them get too soft. Season the veggies with the meat seasoning. Remove to a large bowl and set aside.
Crumble the ground beef into the same skillet; break up with a wooden spoon. Sprinkle with the Worcestershire sauce, some of the meat seasoning and add the beef base, mixing it into the meat drippings. Cook meat until browned and cooked through. Add to vegetables in the bowl and mix.

Using a large baking pan spoon about 1/2 cup of the Alfredo sauce in the bottom and spread it around. Arrange 4 noodles on top, breaking them to fit. Spoon half of the meat mixture over the noodles. Sprinkle with 1/3 of the cheese. Pour the remaining Alfredo sauce in the first jar over evenly. Top with another four noodles. Spread the remaining meat mixture over, including any juices in the bowl, another 1/3 of the cheese. Layer another 4 noodles on top and pour the second jar of sauce over all.

Add about 1/2 cup of water to the jar, cover, shake, and add water to the pan. Bake in a 350 degree oven for 45 minutes. Sprinkle with the remaining 1/3 cheese, bake another 15-25 minutes until hot and bubbly, noddles are tender, and cheese is starting to brown. Let stand 10 minutes before serving.