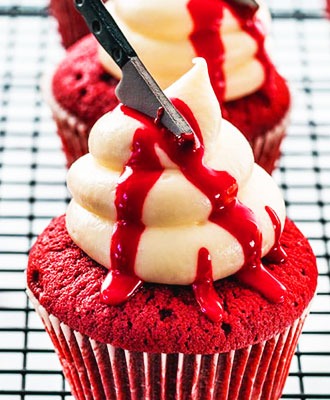 Ingredients:
1c cake flour
1/4c cocoa
1/2tsp salt
2/3c vegetable oil
3/4c sugar
1 egg
1oz (2T) red food coloring
1/2tsp vanilla
1/2c buttermilk
1/2tsp baking soda
3/4tsp white vinegar
Directions
Preheat oven to 350 degrees.
Line12-cupcake pans with cupcake liners and spray with cooking spray.
Whisk cake flour, cocoa and salt in a bowl.
Place oil and sugar in bowl of an electric mixer and beat at medium speed until well-blended. Beat in eggs one at a time.
With machine on low, very slowly add red food coloring (and water or syrup, if necessary). (Take care: it may splash.) Add vanilla.
Add flour mixture alternately with buttermilk in two batches. Scrape down bowl and beat just long enough to combine.
Place baking soda in a small dish, stir in vinegar and add to batter with machine running. Beat for 10 seconds.
Divide batter among cupcake pans, filling each about 2/3 full. Bake for about 12 minutes, until a toothpick inserted comes out clean.