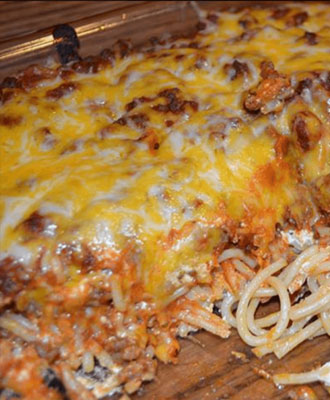 1 small onion, diced
Drizzle of canola or olive oil
1 pound ground beef or turkey
Salt and pepper for seasoning
1 jar of your favorite marinara sauce
1 pound penne noodles
1 tablespoon butter
1/2 cup sour cream
1 8 oz block of cream cheese
1/2 cup cottage cheese
1 teaspoon garlic salt
1/2 teaspoon dried parsley
1/8 teaspoon black pepper
Cooking spray
2 cups shredded cheese (Cheddar, Mozzarella, Colby Jack Mix, whatever floats your boat)
Preheat a large skillet on medium high heat as well as the oven to 350 degrees. Add the oil and onion to the pan and saute for a few minutes to soften it. Add the ground beef and season with black pepper and a little salt. Cook until no longer pink in the middle. Add the jar of marinara sauce and stir. Let bubble while you work on the other components.
Cook the noodles according to the directions of the box. You want them to be pretty al dente (not all the way cooked yet) since they will continue to cook and absorb the liquid while it bakes in the oven. Once the noodles are cooked and strained, add the butter and give them a quick mix. Set aside for now.
Combine the sour cream, cream cheese, cottage cheese, garlic salt, parsley and black pepper in a small bowl. Now we are ready to assemble.
In a 9×13 pan that has been sprayed with cooking spray, add 1/2 of the noodles. Spread the cheese mixture over the top of the noodles. Add the other 1/2 of the noodles and top with the meat sauce.
Place in the oven for 30 minutes. After 30 minutes, remove from the oven and sprinkle the cheese over the top. Place back in the oven for about 10 minutes or until the cheese is completely melted.