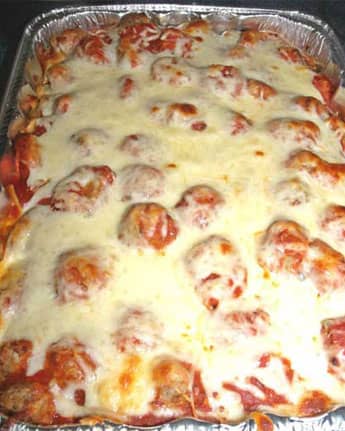 French baguette, day old is best
18-24 meatballs, cooked
3 cups Red Sauce or 3 cups jarred sauce (
2 cups shredded mozzarella, divided
1/2 cup garlic and herb cheese spread such as Alouette
2 tablespoons Parmesan cheese, shredded
1 tablespoon Italian Bread Crumbs
Garnish with fresh basil if you like
Instructions
Preheat oven to 400 degrees F. and coat a casserole dish with cooking spray. I used a 13×9″ pan.
Slice baguette into 1″ slices and place into bottom of casserole dish to see how much you need to cover the bottom of the dish. Then coat each slice with the garlic and herb cheese spread and place back into the baking dish to cover the bottom.
Top baguette pieces with 1 cup shredded mozzarella cheese and 18-24 meatballs.
Cover the meatballs evenly with 3 cups Red Sauce or 3 cups of your favorite jarred sauce and top with remaining cup of shredded mozzarella cheese. Sprinkle on a tablespoon of Italian bread crumbs and 2 tablespoons shredded Parmesan cheese.
Bake in the preheated oven for 20 minutes or until the cheese is melted. If you are like me and prefer your cheese slightly browned, turn on the broiler until the cheese is browned to your liking. Watch it closely! It will burn quickly if you are not careful!