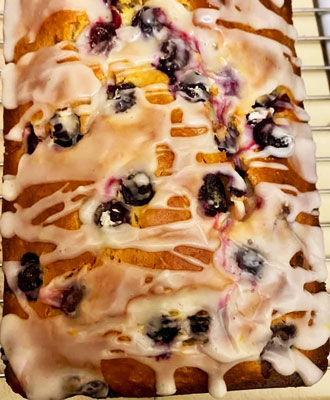 6 ounces of butter softened, plus more for buttering the tin
100g Greek yogurt
2 TBS of lemon curd
3 large free range eggs
the zest of one lemon
8 ounces self raising flour
6 ounces golden caster sugar
85g of blueberries
For the streusel:
1 1/2 ounces of self raising flour
1 1/2 ounces demerara sugar
1/2 tsp ground cardamom
1/2 ounce soft butter
For the glaze:
the juice of one lemon
5 ounces icing sugar, sifted
To serve:
lemon curd
creme fraiche
Pre-heat the oven to 160*C/325*F. Butter a 2 pound loaf tin. Line it with a long strip of parchment paper, for ease in lifting out. Butter the parchment.
Make the streusel by rubbing all the streusel ingredients together until crumbly. Set aside.
Place all the cake ingredients, except for the blueberries into a mixing bowl. Beat well until thorougly combined and smooth. Spoon half of this into the prepared loaf tin. Sprinkle the blueberries over top and then cover with the remaining half of the batter.
Sprinkle the streusel evenly over top.
Bake in the heated oven for 1 hour and 15 to 1 hour and 20 minutes, or until a skewer inserted in the centre comes out clean and the cake is well risen and golden brown. Remove from the oven. Allow to cool in the pan before lifting out onto a wire rack.
Make the glaze by whisking together the lemon juice and the icing sugar. Drizzle this over top of the cake.
Serve in slices with some more lemon curd and some creme fraiche if desired.