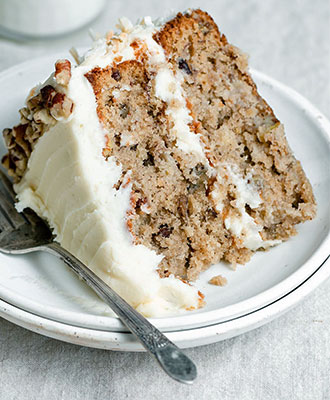 Cake:
2 cups all purpose flour
1 tsp baking powder
1 tsp baking soda
1/2 tsp salt
1/2 tsp cinnamon
1/2 cup unsalted butter, at room temperature
1 cup sugar
2 eggs
1 tsp vanilla extract
1 tsp coconut extract
1 cup vanilla greek yogurt
2 ripe bananas, mashed – approximately 1 cup
2/3 cup shredded coconut
1 cup crushed pineapple, drained
Icing:
3 oz cream cheese, at room temperature
2 T milk
1/2 tsp vanilla extract
3/4 cup powdered sugar
1/3 cup shredded coconut
Preheat oven to 350 degrees and grease and flour a bundt pan.
Combine flour, baking soda, powder, salt and cinnamon in a medium bowl and whisk to combine. Separately cream butter and sugar for 2-3 minutes until light and fluffy. Add eggs, one at a time, mixing until thoroughly combined. Add in extracts and yogurt and mix to combine. Add 1/2 of the flour mixture, mixing on low speed until just combined. Mix in the bananas and then follow with the remaining flour mixture. Once combined, stir in coconut and pineapple. Transfer to prepared pan, smooth out the top and bake about 45-55 minutes until a knife or skewer comes out clean.
Cool in pan for about 20 minutes. Cover a cooling rack with parchment paper, place on top of bundt pan and invert cake and cool completely.
For icing, whisk cream cheese until smooth, whisk in milk and vanilla. Add powdered sugar and mix until smooth. Add more powdered sugar if necessary to reach desired thickness. Stir in coconut. Spoon over the top of the cooled cake, cut and serve.