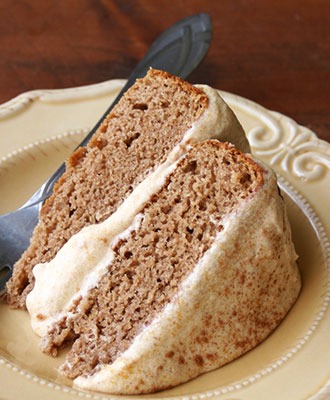 CAKE
2 cups GF Flour Mix*
1 teaspoon xanthan gum
1 ½ teaspoons baking powder
1 teaspoon baking soda
1 ½ teaspoons cinnamon
½ teaspoon allspice
¼ teaspoon nutmeg
1 teaspoon cocoa powder
½ teaspoon salt
½ cup unsalted butter, room temperature
1 ½ cup brown sugar, packed
2 eggs
1 teaspoons vanilla
1 cup sour cream
BUTTERCREAM
4 tablespoons unsalted butter, room temperature
2 tablespoons pumpkin puree
½ teaspoon cinnamon
½ teaspoon vanilla
2-3 cups powdered sugar, sifted
2 teaspoons milk
Preheat oven to 350°F. Spray two 9-inch cake pans with cooking spray and line the bottoms with parchment paper.
To prepare the cake, whisk together the first 9 ingredients in a medium-sized bowl. Set aside.
In a separate bowl, cream together the butter and brown sugar, about 2-3 minutes on medium speed. Add in eggs, one at a time, mixing well in between each. Beat in the vanilla. Next, add in the dry ingredients in three separate additions, alternating with the sour cream. Mix well in between each addition.
Divide batter between the two prepared cake pans and bake for 25 minutes, or until a toothpick inserted in the center of each cake comes out clean. Let cakes cool completely.
To prepare the buttercream filling, beat butter until creamy, about 1-2 minutes. Add in the pumpkin, cinnamon, and vanilla, and mix completely. Slowly add in 2 cups of powdered sugar followed by the milk. Adjust to your personal taste and texture preferences, adding more powdered sugar for a sweeter, firmer filling.
Assemble the cakes by placing one cake layer, bottom side facing up, on a plate. Completely cover the upward-facing layer with the pumpkin buttercream. Place the second cake layer on top of buttercream filling, the top facing up. Finish cake with powdered sugar for decoration, if desired.
*GF Flour Mix
2 cups brown rice flour
2/3 cup potato starch
1/3 cup tapioca starch