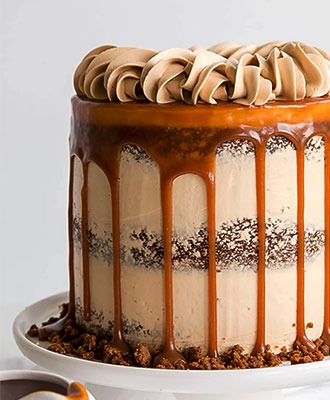 Ingredients
2 1/2 cups all purpose flour
2 tsp. baking powder
1 tsp. fresh grated ginger
1tsp. Minced Ginger
1/2 cup shortening
1 cup brown sugar
3/4 cup molasses
1/2 tsp. salt
1/2 tsp. nutmeg
1/2 tsp. cinnamon
1 cup boiling water
1 tsp. baking soda
2 eggs, well-beaten
Method
Stir flour, baking powder and ginger together. In a separate bowl, cream shortening and brown sugar together. Blend in molasses, salt, nutmeg and cinnamon. Pour boiling water over baking soda and add to molasses mixture. Stir in dry ingredients, blending well. Add well-beaten eggs and mix well.
Pour batter into a greased and floured 9 x 13 inch pan (or 2 8-inch cake pans). Bake in a pre-heated 325° oven for 50 to 60 minutes for the large pan or 35 to 45 minutes for the smaller cake pans.
Caramel Sauce
1 cup butter
1 cup sugar
1 cup brown sugar
1 cup cream
pinch of salt
2 teaspoons vanilla
Mix all the ingredients together and simmer for about 5 or 6 minutes Serve over warm gingerbread and a scoop of Ice cream =)