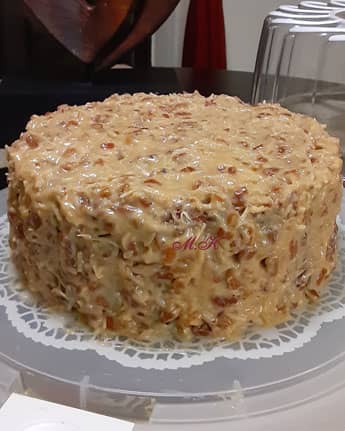 Ingredients for the filling
Condensed milk- 8 ounce or 1/2 tin
Butter – 3 tsp
milk- 2 tsp
vanilla essence- 1tsp
Egg yolks 2
Chopped pecans- 3/4 cup
Sweet Coconut – 3/4 cup
Salt- a pinch
Ingredients for cake
1)Flour- 2 cup
Butter – 3/4 stick
Cocoa- 1/2 cup
Baking powder- 1 1/2tsp
Baking soda- a pinch
salt- a pinch
2)Semi sweet chocolate- 4 ounce
Egg- 3
Butter milk- 3/4 cup
Sugar- 3/4 cup
Vanilla essence- 1 tsp
To make the frosting
Heat condensed milk, two tsp of milk and butter. When this comes to a boil beat egg yolks in a separate bowl and add two to three tsp of this hot liquid and whisk vigorously. Quickly add this egg mixture to the boiling condensed milk and stir continuously till thick like custard. Add in chopped pecan coconut and vanilla essence and allow this mixture to cool completely.
For the cake
Heat oven to 350 degree F and prepare baking pan by greasing it and then dusting with flour.
In a double boiler melt chocolate and allow to cool. Combine the dry ingredients listed under one and keep aside.
Beat butter and sugar until it becomes creamy and fluffy. Add eggs one at a time and continue beating.Add vanilla essence and melted chocolate and combine. Now add little by little flour mixture and butter milk and gently fold in. Pour into prepared pan and bake for 30 minutes or till the tooth pick inserted at the center comes out clean. Let it cool down completely before frosting.