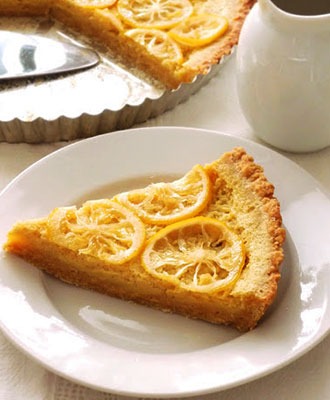 Ingredients:
Dough:
220g (1 cup + 4 tsp) whole wheat flour
60g (1/3 cup) light brown sugar
a pinch of salt
125g (1/2 cup + 1 tbsp) butter, cold, cut into tiny lumps
1 egg, lightly beaten
3 tbsp cold white wine
butter+flour for greasing
Filling:
2 organic lemons4 eggs180g (3/4 cup + 2 tbsp) light
brown sugar
1 vanilla pod
150g (2/3 cup) crème fraîche
Syrup:
2 small organic lemons
100g (1/2 cup) light brown sugar
120ml (1/2 cup) water
Directions:

Dough: Mix together sugar, flour and salt in a bowl. Add butter into the flour until the mixture has the consistency of coarse crumbs, using a knife and then your fingertips. Make a well in the center of the flour mixture and pour the beaten egg and white wine into it. Use a knife to incorporate the liquid into the solid ingredients, and then use your fingertips. Knead lightly just until the dough comes together into a ball. Shape the dough into a flat disk and wrap in plastic wrap. Refrigerate for about 30 minutes. Then unwrap it. Lightly dust the top of the dough and your work surface with flour. Keep some flour handy to dust the dough as you go along. Roll the dough into a circle. Flip it over greased and floured tart form (26cm diameter), centering it, and delicately press it all around so the corners are well covered. Trim the excess dough hanging over the edges of the pan. Press the remaining dough around the border into the sides of the pan making sure the border is an even thickness all the way around. Prick the bottom of the dough with a fork in several places. Bake in preheated oven to 200C for 10 minutes (the dough should not change colour!). Remove from oven and set aside.
Filling: Beat eggs and sugar until light and foamy. Then gently fold in grated zest from both lemons, fresh lemon juice from both lemons, vanilla seeds from vanilla pod and crème fraîche.
Syrup: Slice both lemons into THIN slices. In a pan, combine water and sugar and bring to boil, stirring constantly. Add sliced lemons and continue boiling for about 7 minutes. The syrup won't become thick or something like that, but it'll become sour, tangy and a bit bitter and the lemon slices will be candied a bit. Remove from heat, discard the lemon slices (or see NOTES & TIPS) and let cool completely.
Assembly: Pour the filling into the prebaked pie crust and bake in preheated oven to 150C for 30-35 minutes or until the filling in the middle isn't runny any more. Remove from oven, let cool for about 5 minutes and then pour the syrup all over the surface of the tart. Let cool completely. Serve.