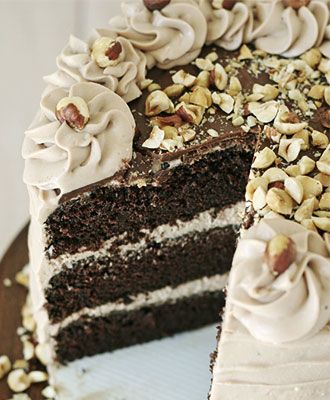 Cake Layers:
1 & 1/2 cups flour
1/2 teaspoon baking powder
1 egg
3/4 cup sugar
4 tablespoons sour cream
4 tablespoons unsalted butter, softened
1/2 cup milk
2 tablespoons roasted hazelnuts, grated
Chocolate Kahlua Cream Filling:
4 cups of milk
1/2 cup flour
1 & 1/2 cups sugar
1/2 cup dark chocolate chunks
1/2 cup milk chocolate chunks
1 & 1/2 tablespoons cocoa
1 & 1/2 tablespoons of kahlua
1/2 teaspoon vanilla
Chocolate Glaze:
1/3 cup dark chocolate chunks
1/4 cup milk chocolate chunks
1/2 tablespoon sugar
2 tablespoons milk
Preheat oven to 350 F.

To make the cake layers: In a medium bowl, mix the flour and baking powder. Beat in the butter until soft peaks form, then add sugar, eggs, sour cream and milk. Fold in grated hazelnuts. Spread the batter onto a greased small-rimmed baking sheet in an even layer and bake for about 10-15 minutes, or until golden brown. Set aside to cool completely.

To prepare cream: Place 3 cups of milk in a medium saucepan over low heat. In a medium bowl, mix the remaining 1 cup milk, flour, and sugar. When the milk in saucepan starts to boil, add the flour mixture and stir well until thickened, about 5 minutes or so. Remove the cream from heat and stir in both chocolates, vanilla, and Kahlua. Set aside.
To make chocolate glaze: In a small saucepan over medium heat, combine all of the chocolate glaze ingredients and stir constantly until chocolate is fully melted and you've reached your desired consistency. Set aside.
To assemble cake: Cut the cake into even sections (I made a 4 layer cake because I didn't want anything too big). Place one cake layer on flat surface and top with an even layer of chocolate cream. Top cream with another cake layer and top that layer with cream, as well. Repeat with one final cake and cream layer. Put final (if you're doing 4 layers) cake layer on and instead of topping with cream, drizzle chocolate glaze over top. Garnish cake with grated roasted hazelnuts. Cut cake into cute little squares and serve!