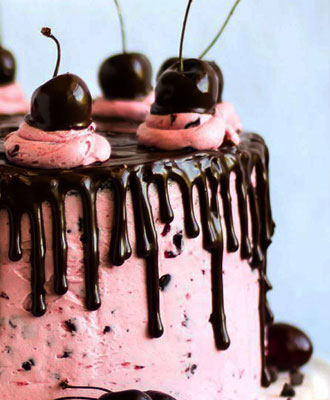 Maraschino Cherry Cake
1/2 cup unsalted butter (softened)
1 1/2 cups sugar
3 egg whites
2 cups flour
1 teaspoon salt
1 tablespoon baking powder
1 cup sour cream
1 teaspoon cherry extract
10 oz. bottle of maraschino cherries – reserve the juice and cut the cherries in eighths
2 tablespoons flour for sprinkling over diced cherries
Whipped Chocolate Ganache
1 (12 oz.) package mini semi-sweet chocolate chips
1/2 cup whipping cream
6 tablespoons unsalted butter (softened)
Instructions
Preheat oven to 350 degrees. Line the bottom of three 6 inch cake pans (or two 8 inch) with wax paper. Grease the sides.
In a large bowl, beat the butter and sugar together until creamy. Beat in the egg whites. In a separate bowl, whisk together the flour, salt and baking powder. In another bowl, combine the sour cream, cherry extract and reserved maraschino cherry juice. Alternate adding the dry and wet mixtures to the butter/sugar/eggs until combined.

In a small bowl, sprinkle the 2 tablespoons of flour over the diced cherries and stir until the flour has been completely absorbed. Stir the cherries into the batter.
Pour batter into prepared cake pans and bake for 30-35 minutes. Remove from pans and allow to cool completely on a wire rack.Microwave chocolate chips and whipping cream in a microwave-safe bowl on medium power, 2 1/2 to 3 minutes or until chocolate begins to melt. Whisk until chocolate melts and mixture is smooth. Whisk in butter; let stand 20 minutes. Beat at medium speed with an electric mixer 3 to 4 minutes or until ganache forms soft peaks. Spread on cooled cake