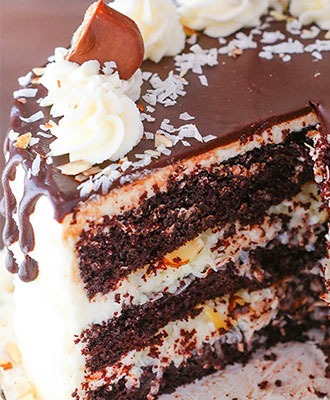 Cake Ingredients:
2-3/4 cups all purpose flour
1 teaspoon baking powder
1/2 teaspoon baking soda
1/2 teaspoon salt
1-3/4 cups sugar
1 cup (2 sticks) unsalted butter, room temperature
10 oz (1-1/4 cups) sweetened cream of coconut (such as Coco Lopez)
4 large eggs, separated
1 teaspoon vanilla extract
1 teaspoon almond extract
1 cup buttermilk
1/2 teaspoon Cream of Tartar
Preparation:
* Preheat oven to 350 deg F.
* Butter and flour two 9-inch diameter cake pans.
* Whisk flour, baking powder, baking soda and salt together in a medium bowl.
* Using an electric mixer beat sugar and butter until fluffy (about 3 minutes).
* Add sweetened cream of coconut to butter/sugar mixture and mix until incorporated. (Important Note: be sure to stir the cream of coconut before measuring. It settles and separates in the can.)
* Beat in eggs yolks (one at a time) and extracts.
* On low speed, mix in 1/3 of dry ingredients and then half of buttermilk. Mix in another 1/3 of flour mixture, and then the other half of buttermilk. Mix in the final 1/3 of flour by hand.
* Using clean, dry beaters, beat egg whites with cream of tarter until stiff but not dry peaks form.
* Fold the beaten egg whites into the batter.
* Divide cake batter between prepared pans.
* Bake cakes until tester inserted into center come out clean. 35-45 minutes.
* Cool cakes in pan for 10 minutes and then turn cakes out onto racks to cool completely.
Coconut Cream Cheese Frosting
Frosting Ingredients:
2 (8-ounce) packages cream cheese, room temperature
1/2 cup (1 stick) butter, room temperature
4 cups powdered sugar
4 ounces ( 1/2 cup) sweetened cream of coconut (such as Coco Lopez) – you can add less Coco Lopez if you want a stiffer frosting consistency.
1 teaspoon vanilla extract
Preparation:
* Beat cream cheese in medium bowl until fluffy.
* Add butter and beat to blend.
* Add sweetened cream of coconut and vanilla extract and beat.
* Add sugar and beat until well blended.
Chocolate Ganache
Ganache Ingredients:
2 oz milk chocolate morsels
2 oz semi-sweet morsels
3 Tablespoons heavy whipping cream
1-1/2 Tablespoons butter
Preparation:
* Place all ingredients in a medium bowl and microwave at 50% power for 30 seconds.
* Stir and microwave for another 30 seconds at 50% power.
* Allow to cool completely before using.
Cake Assembly:
Shredded Coconut
Almond Slivers
* Place 1 cake layer on cake plate and spread 1 cup of Coconut Cream Cheese Frosting over cake layer.
* Sprinkle 1 cup sweetened shredded coconut over frosting.
* Top with second cake layer.
* Spread remaining frosting over top and sides of cake.
* Press almond slivers into frosting on sides of cake.
* Pour cooled chocolate ganache over top of cake. Using a spatula spread chocolate to top edge of cake.
* Sprinkle coconut around the top edge of the cake.
* Store in refrigerator until frosting and chocolate are set.
* Let cake stand at room temperature for 2 hours before serving.