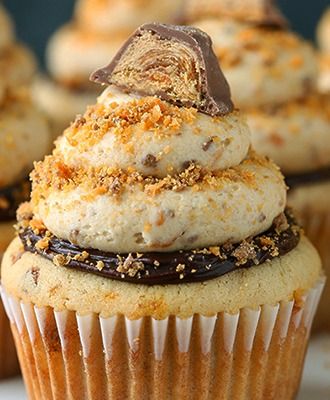 Butterfinger Cupcakes
1 1/2 cups Flour
2 tablespoons Flour
2 teaspoons Baking Powder
1/4 teaspoon Salt
8 tablespoons Unsalted Butter — room temperature
1 1/2 cups Sugar
2 tablespoons Sugar
4 large Eggs
1 cup Mashed Bananas
2/3 cup Buttermilk
2 Butterfingers Candy Bar — or 12 fun-size
Frosting:
8 ounces Cream Cheese — room temperature
4 tablespoons Unsalted Butter — softened
1/2 cup Peanut Butter — creamy
3 1/4 cups Powdered Sugar
1 cup Cool Whip®
Garnish:
1/2 Butterfingers Candy Bar — coarsely chopped
Direction
To make the cupcakes, preheat the oven to 350° F. Line cupcake pans with paper liners. In a medium bowl combine the flour, baking powder and salt; whisk together and set aside. In the bowl of an electric mixer, cream together the butter and sugar on medium-high speed until light and fluffy, about 2 minutes. Reduce the mixer speed to medium low and add in eggs one at a time, scraping down the sides of the bowl as needed. Mix in the mashed banana until well combined. With the mixer on low speed alternately add the dry ingredients and buttermilk, beginning and ending with the dry ingredients and mixing only until just incorporated. Divide the batter between the prepared cupcake liners, filling each about 2/3 to ¾ full. Bake until a toothpick inserted in the center comes out clean, about 20-22 minutes. Allow to cool in the pan 5-10 minutes, then transfer the cupcakes to a wire rack to cool completely.
To make the frosting, in the bowl of an electric mixer, combine the cream cheese, butter and peanut butter until smooth. Slowly mix in the powdered sugar, beating until smooth and well blended. Mix in the whipped topping until smooth and fluffy.
To assemble the cupcakes, cut candy bars into 24 small pieces, and place a candy bar piece on top of each cooled cupcake. Transfer the frosting to a pastry bag fitted with a decorative tip and pipe onto the cupcakes, covering the candy bar completely. (I used a large, unlabeled star tip to frost these cupcakes.) Sprinkle with chopped candy bars for garnish.