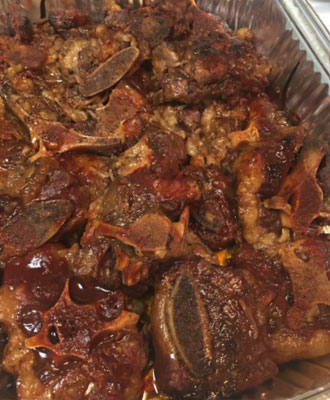 4 lb beef short ribs, cut into
2″ lengthsfresh ground pepper
5 tbsp olive oil
8 garlic cloves, peeled and finely chopped
1 1/2 cups canned Italian plum tomatoes, with juice
2 cup sliced carrots, cut into 1/8″ rounds
3 cups onions or leeks, chopped
8 whole cloves
1/2 cup fresh parsley, chopped
3/4 cup red wine vinegar
3 tbsp tomato paste
2 tbsp brown sugar
2 tsp salt
1/4 tsp cayenne pepper
3 cups beef stockSprinkle pepper over short ribs. Heat olive oil in a large flame proof casserole, and sear ribs
4 or 5 at a time, browning well on all sides. As they are browned, drain them on paper towels.
Preheat oven to 375°
Return half of the ribs to the casserole and sprinkle with half of the garlic. Then layer half of the tomatoes, carrots and onions over the meat. Add 4 cloves and sprinkle with parsley. Repeat again for the 2nd layer.
In a bowl, mix together the vinegar, tomato paste, brown sugar, salt, black pepper and cayenne. Pour over the meat and vegetables, then add the beef stock, just to cover.
Cover the casserole and bring to a boil on the stove top. Once it has come to a boil, place it in the oven and bake for 1 1/2 hours. Then uncover the casserole and bake a further 1 1/2 hours, until the meat is very tender. Taste, correct the seasoning, and serve immediately with mashed potato or polenta and a garnish of chopped parsley or leeks. Don't forget a bowl of thick tasty sauce on the side!