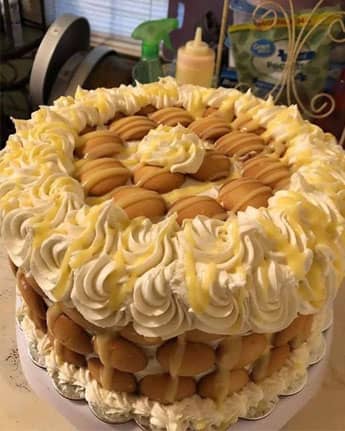 Ingredients:
2 sticks butter, softened
1 3/4 cups sugar
3 eggs + 2 egg whites
3 teaspoons vanilla
3 cups all-purpose flour
3 1/2 teaspoons baking powder
One (1.34 ounce) box banana pudding mix
1 cup milk
For The Filling Ingredients: Whisk together the following ingredients and refrigerate until you are ready to assemble the cake, about 10-15 minutes
One (1.34 ounce) box vanilla pudding mix
1 1/4 cups milk
1 cup Cool Whip (or whipped cream)
To Brush On The Layers Mix Together The Following:
1 Tbsp sweetened condensed milk
1 Tbsp milk
You Will Also Need:
2-3 medium ripe bananas, sliced and coat with lemon juice in a bowl ( 1 lemon to coat the bananas to prevent from browning)
4 cups Cool Whip for frosting
1 box Nilla Wafers
Directions For Step 1: Making The Cake
Preheat oven to 350 F. Prepare three 8″ round pans by lining the bottom only with parchment paper.
In a large mixing bowl on high cream butter and sugar until light and fluffy, about 2-3 minutes, until a pale whitish color. Then slowly beat in eggs and egg whites, one at a time. Beat in vanilla until well combined.
In a large separate bowl, combine flour, baking powder, and pudding mix. Add into wet ingredients in three separate additions, mixing until just combined. Don't over mix!
Stir in milk until combined. Divide batter and pour into pans. Bake 20-25 minutes or until cake is golden and begins to pull away from sides of pans.
Allow cake to cool 15 minutes in pan. Loosen and remove from pan. Allow to cool another 1-2 hours on a wire rack.
Step 2 Layering The Cake:
Level each cake. Place first layer on cake plate. Brush with a little milk mixture.
Line banana slices on top of cake. Spread 1/3-1/2 of the filling mix on top of bananas.
Place next cake layer on top of filling. Repeat with milk mix, filling, and final layer.
Step 3 Frosting The Cake:
Frost with Cool Whip and decorate. Crush some Nilla wafers and spread on top if desired, then used the wafers along the sides.