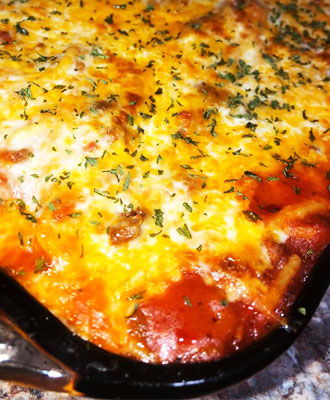 Ingredients:
Reynold's Wrap
1 (8oz) package of cooked spaghetti
2 tablespoons of butter OR margarine
1 cup grated Parmesan cheese, divided
1 (24oz) carton ricotta cheese
1 lb ground beef
1 jar of preferred spaghetti sauce
1 (8oz) package shredded mozzarella cheese
Directions:
1. Preheat oven to 400 degrees F. Line a 13x9x2 inch baking pan with Reynolds Wrap.
2. Combine hot cooked spaghetti with butter; stir until butter melts and coats spaghetti. Add 1/2 cup Parmesan cheese; stir to coat.
3. Arrange spaghetti in an even layer on bottom of baking dish.
4. Spread ricotta cheese over spaghetti. (I use my fingers to spread the cheese. It's so much easier.)
5. Sprinkle with 1/2 cup Parmesan cheese.
6. Brown ground beef, drain; add pasta sauce. Mix. Spoon over cheeses.
7. Top with mozzarella cheese and remaining Parmesan cheese.
8. Cover with non-stick foil. Bake 30 minutes. Remove foil cover and continue baking 15 minutes or until cheese is lightly browned. Let stand 10 minutes before serving.